"Who would think that a band that named itself after a certain type of trout (not a certain country singer as some have suggested) and chalked up two decades and six discs would give us a set of songs that's worthy of contention for album of the year? Helmed by married singer/songwriters, Steve Dawson and Diane Christiansen, and aided and abetted by bassist Mike Bradburn, guitarist Mark Balletto and drummer Matt Thobe, this Chicago based band makes a glorious sound, one rich in achingly beautiful ballads, evocative narratives and songs that resonate through sheer drive and determination."
– Country Standard Time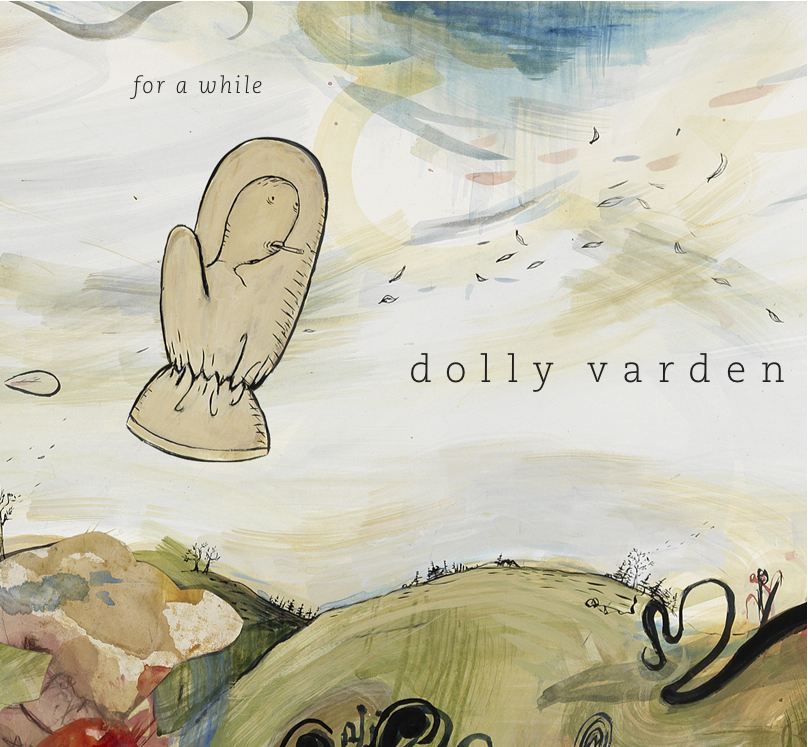 1. Del Mar, 1976
2. For A While
3. Done (Done)
4. Girl In A Well
5. Walking The Chalkline Again
6. Mayfly
7. The Milkshake Incident, Part 1
8. Temperamental Complement
9. Saskatchewan To Chicago
10. Why Why Why
11. Favorite Friend
12. Thank You
"I went following the footsteps of a friendship that ended in Chicago."
Steve Dawson sings this ambiguous, evocative line on Dolly Varden's sixth and latest studio album, For a While, and we wonder: Did the footsteps or the friendship end in Chicago — or both? This much we know is true: Steve, born in California and raised in Idaho before studying music in Boston, moved to Chicago in 1987, formed the band Stump the Host with his soon-to-be-wife Diane Christiansen the following year and, after that band's demise, launched Dolly Varden with Diane in 1994. Dolly Varden is a type of trout found in the Pacific Northwest, and the fish was named after a character in Charles Dickens' novel Barnaby Rudge. So now you know.
For 18 years Dolly Varden has been wowing and charming audiences with the warm, sublime interplay of Steve's and Diane's voices (yes, they're still married); the emotional potency, intelligence and undeniable melodicism of Steve's songwriting; and the supple backing of supremely versatile guitarist Mark Balletto and the limber rhythm section of bassist Mike Bradburn and drummer Matt Thobe as the band encompasses rock, folk, country and R&B/gospel influences to create something solely its own. From the 1995 debut, Mouthful of Lies, through The Dumbest Magnets (2000) and The Panic Bell (2007), Dolly Varden has built a sizable, loyal fan base, and now listeners new and old can reap the considerable rewards of For a While. It's an album that feels like it couldn't have been created at any other point in the band's history.
Recorded and mixed by Steve at Kernel Sound Emporium in Chicago and produced by the band, For a While finds Dolly Varden occupied with the passage of time, diving into lifetimes of memories to make better sense of today. From the delicate opening reflections of "Del Mar, 1976" ("I don't remember her name, but I remember her well"), to the Diane-sung transience-themed title track to the generations-spanning ballad "Saskatchewan to Chicago" to the album's centerpiece, the achingly gorgeous "Mayfly" ("We are lucky, and I must not forget"), Dawson and the band demonstrate that time has had only a positive effect on their artistry. Dawson's songwriting has gained in depth and observational powers while his voice has never sounded richer or more expressive. And the rest of the band is with him every step of the way, whether tightening the screws on the taut rocker "Done (Done)," creating the eerie outer-space-garage vibe of "Temperamental Complement," splashing a hymn-like beauty over "Girl in a Well" and "Favorite Friend" or reveling in the joyful pop of the closing "Thank You."
Some aspects of life may be fleeting, but the pleasures of For a While will be everlasting — and for that we are lucky.