FOR A WHILE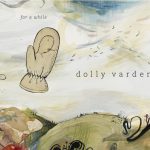 "With one eye on the past and enough hope for the future to get by, Dolly Varden's new album For a While shows how the little things in life add up to something worthy of gratitude. The album opens with memories of pre-adolescence, and ends with a generosity of spirit culled from the many experiences along the way. It's been six years since the previous Dolly Varden album, and it's great to hear the way these five musicians fit so comfortably together again after all this time. This is an album of contentment tinged with knowledge that it's all ephemeral, that it can disappear with just a single act outside one's control. Dolly Varden ends the record by singing "Thank You." The feeling is mutual."
Blurt (8 out of 10 rating)
"Who would think that a band that named itself after a certain type of trout (not a certain country singer as some have suggested) and chalked up two decades and six discs would give us a set of songs that's worthy of contention for album of the year, even though the year's just barely begun. Helmed by married singer/songwriters, Steve Dawson and Diane Christiansen, and aided and abetted by bassist Mike Bradburn, guitarist Mark Balletto and drummer Matt Thobe, this Chicago based band makes a glorious sound, one rich in achingly beautiful ballads, evocative narratives and songs that resonate through sheer drive and determination." – Country Standard Time
"The lyrics are so accessible and the images so vivid that they resemble short fiction, tales that glow in the mind long after you listen to the album. It helps that they come accompanied by a beautifully rendered blend of folk, country and rock." – Popmatters
"what they do is write and perform unusually well structured and thoughtful songs, moving comfortably from folk to alt-country to jangle pop ("Walking the Chalkline Again") to rock ("Done (Done)"), all exceptionally well done and with a distinct Midwestern wholesomeness that is completely at odds with the cynical and insincere age in which we live." – When You Motor Away
"The album opens with the reflective acoustic-based Del Mar, 1976, with Dawson's slightly cracked voice painting a clearlydefined portrait of a bygone time with Diane joining in after the first minute to add such delicate harmonies that you feel like they will disintegrate and disappear into the ether. Dolly Varden have created a movie of the mind, a grand adventure told in song…The songs are performed with an honesty and respect for the music and its subtle nuances. In short, this band's heart is in the right place" 4 star review – Maverick Magazine (UK)

Music Story Isn't Over Yet
Chicago Tribune, January 18, 2013 by Steve Johnson
A sampling of how it works for a rock 'n' roll band in middle age: The bass player and drummer drive in for rehearsal from the suburbs where one of them is an interfaith counselor and the other, for a time, operated a fresh-bread franchise.
One singer, distracted by her artwork, is still learning some of the words to the new songs. The other singer, her husband, has a badly cut finger, injured while cleaning a French press coffee maker belonging to their daughter, home from college. And the event for which they are practicing, a CD-release show for the band's new record, its first in more than five years and second in the last decade, is at a posh new club that pushes wine as a backdrop to the music.
Things are happening at a more measured pace for Dolly Varden than they were in the 1990s and the first part of the 2000s, when it was regarded as one of the Chicago bands most likely to break nationally.
But a careful listen to the new recording, "For a While," out Tuesday after the CD-release show Saturday at City Winery, leaves no doubt that things are still happening.
Fronted by the husband-wife duo of Steve Dawson and Diane Christiansen, Dolly Varden has been through more than 17 years and five previous albums together, played a South by Southwest showcase, been courted by major labels, toured the U.K., opened for some of the biggest names in alt-country and indie rock, earned rhapsodic reviews from Rolling Stone and the Tribune's Greg Kot, developed a passionate local following — and then seen all of that simmer down in recent years, as babies came, Christiansen battled uterine cancer, the music business changed, and the spinning wheels of luck, talent and popular taste never quite aligned for them.
Yet instead of putting the amplifiers into a garage or attic and getting on with a more ordinary life, the band, with members in their 40s and 50s, has just made what strikes many listeners — including listeners within the group — as one of the best records of a distinguished career.
READ THE FULL STORY HERE
Writers of New Dolly Varden Album Have Come A Long Way
Chicago Sun-Times, Thomas Connor, Jan 18, 2013
'For a While," the new album from Chicago's venerable Dolly Varden (out Jan. 22) sounds like a band of musicians utterly comfortable in their own skins. The songwriting of Steve Dawson and wife Diane Christiansen is built on carefree melodies and sweet-but-never-cloying harmonies, making its creation seem deceptively easy. The thoughtful, reminiscent verses transmit a modest wisdom. The woody, moseying arrangements show off occasional experimental flourishes — the kind a grown-up musician tries out, not the brash theatricality of a grand-standing whipper-snapper.
It's an adult album for the adult at heart.
Dawson, 47, teaches songwriting and guitar at the Old Town School of Folk Music.
"My songwriting class has a bunch of older dudes," he says one afternoon in a Wicker Park diner. "We were talking about that certain freedom you find once you hit 40. The pressure's suddenly off. You don't give as much of a sh–. We were all saying we wish we had this attitude at 22. Instead of worrying all the time about what people think about what you do, we could've done anything."
Dolly Varden hasn't done anything and everything, but they have done great things. Could they have done more? Sure. Courted by major labels after their 1995 debut ("Mouthful of Lies"), the band was positioned to ride Chicago's wave of breakout stars in the mid-'90s. It didn't happen.
Funny story, that. READ THE FULL STORY HERE
CHICAGO READER
It's natural for a band that formed nearly two decades ago to do some stock taking, and that's what Dolly Varden are up to on their first album in six years, the lovely new For a While (Mid-Fi). As usual all the songs were written by guitarist and vocalist Steve Dawson—his wife, singer Diane Christiansen, chips in on a couple—and his glances at the past include scattered images of his childhood on the dreamy "Del Mar, 1976" and his family's four-generation search for a better life on "Saskatchewan to Chicago" ("I went following the footsteps of a friendship that ended in Chicago / I will never understand how that was 22 years ago"). But the songs aren't all autobiographical. "Girl in a Well" is a slightly maudlin ballad about the lasting mark the death of a young girl leaves on the narrator, and "Temperamental Complement"—where a filter gives Christiansen's voice a faraway feel—describes tensions that threaten to rip a couple apart (and bind it together with the determination to overcome them). Most of the album revels in the camaraderie that's held the group together for so long, and with few exceptions it's subdued, pretty, and a bit melancholy, tempering its sentimentality with recollections of bygone travails—on "Done (Done)," for instance, Dawson regrets his dalliances with the music business, which has given Dolly Varden the cold shoulder for years. For a While makes me grateful the band has soldiered on anyway. —Peter Margasak
Dolly Varden: local quintet takes an anti-careerist approach to alt-country

Time Out Chicago
by Robert Loerzel
Steve Dawson, who teaches songwriting at the Old Town School of Folk Music, often tells his students to be specific. Don't write vague lyrics about some nebulous town; make it a real town that means something to you. "Specific images will light up your brain more than generalizations," he says. "Even if a listener doesn't know those places, they still light up the brain more."Dawson followed his own advice when he wrote the songs for his band Dolly Varden's sixth album,
For a While
. The first song, "Del Mar, 1976," is filled with Dawson's memories of growing up in California near the Del Mar Racetrack, including a "pickle weed hill," a girl whose name he can't recall, a Buck Owens concert and the pyromaniac kid next door.Sitting in his Wicker Park home alongside his wife and musical partner, Diane Christiansen, Dawson explains that everything in the song springs from his boyhood experiences. Christiansen, whose daughter's pet rat is crawling around her neck during the interview, interjects: "Even the pyromaniac?"Dawson smiles and admits he made up that part. "I just like the sound of the word
pyromaniac
," he says.Many of the new songs reflect on the passage of time. "That's a natural thing to think about as you reach midlife," says Dawson, who is 47. "And a lot of things in my life I've been doing for a long time now—like being with Dolly Varden for almost 18 years, and with Diane for 22 years. And my daughter's 20 years old."
READ THE FULL ARTICLE HERE
BUY IT
THE PANIC BELL
(Undertow, 2007)

LOVE WILL KEEP US TOGETHER:
DOLLY VARDEN BALANCES MARRIAGE
AND MUSIC FOR THE SEMI-POPULAR GOOD
By Don McLeese – No Depression, photo by Deone Janke"The time away made us realize how valuable it is to have people who you can play with on this level, where you don't really talk about it and discuss how songs are going to go. You just start playing and things happen."
– Steve DawsonIt's fitting that Dolly Varden should release its first album in five years in mid-February, because a Valentine's story lies at the heart of the band. It's the sort of romantic fable you might find in a Cameron Crowe or Nora Ephron flick, a Nick Hornby novel, maybe even a Captain & Tennille hit.
Let's flash back to the end of 1987, when Steve Dawson moved to Chicago specifically to further his musical ambitions. He'd been studying jazz guitar at Boston's prestigious Berklee School of Music, until discovering that he was really a singer-songwriter at heart. A Boston friend had relocated to Chicago and was getting gigs at a couple hundred bucks a night (better than the going rate back east). He suggested that Dawson join him… READ THE FULL ARTICLE HERE

"It's been four years since the last installment of Dolly Varden music, but The Panic Bell arrives with the key elements of the band's music wholly intact. Songwriter Steve Dawson has an unerring capacity for finding the caveat in joy and desolation, in light and darkness. His voice thins and strains with compelling force; partner Diane Christiansen's is here a fragile ache, there a soothing croon of reassurance; and when they sing together, the two create an entirely new whole. The band moves seamlessly from the delicate, folky sound of "Small Pockets" and the Stones-tinged rock of "You Never Will" to the guitar-and-harp wail of "Triumph Mine, Idaho" and the gorgeous pop of "It's All Gonna Change," all the while managing to inhabit the music with a simmering, barely contained intensity. The Panic Bell serves notice that Dolly Varden continues to make pop music that is seductive, transcendent and peerless." – Harp

"Although it's tempting to assert that they don't make records like Dolly Varden's The Panic Bell anymore, it's far more accurate to say that they never really did. Led by the founding husband-and-wife, singer/songwriter duo of Steve Dawson (who wrote all but one of the album's 10 tunes) and Diane Christiansen, the group occupies a self-contained musical universe. Sure, classic echoes abound throughout the taut and cohesive collection. But for all the Beatles, Band, or early Little Feat references you can comb out of the tightly threaded mix, there's an utterly distinctive, here-and-now artfulness to the proceedings that defies easy pigeonholing. Much like their higher-profile homies in Wilco, Dolly Varden (named, incidentally, after a species of trout that in turn took its name from a fictional Dickens character) blends vintage guitar tones and historically aware song craft with a bold and restless insistence on reinventing the wheel. And let's just say that the Chicago-based quintet is currently on a serious roll." -PUREMUSIC.COM

"Chicago's Dolly Varden is, if not the best known band in town, then of the classiest and most under appreciated. Part of it is probably due to burgeoning fame in the UK, coupled with smart booking practices, and appearing locally less frequently. This makes a Dolly Varden show a genuine event in Chicago, and not the kind that draws attention to itself with flashpots and choreography. The quintet approaches each album with a jeweler's precision, crafting exquisite gems with the simplest tools – chiming guitars, steady bass, patient drums, nuanced keyboards and honest, emotional singing. Each new release seems to better the preceding one, not by improving on a given formula but by the band trusting its instincts and letting the songs just happen. Of course, that's not how records are made, but between the hold-your-breath silences, gorgeous melodies and brash rock and roll moments, such intellectual conceits disappear into enjoying the music's casual magic."
-AMPLIFIER MAGAZINE

"The Panic Bell, Dolly Varden's fifth album, may be the breakthrough the Chicago band has been looking for in its decade-plus of existence. The roots rock side of the group is downplayed here, but that turns out to be to the band's advantage. Lush, psych-tinged pop songs like "Small Pockets" and "Sad Panda Clown's Lament" emphasize the band's melodic touch and heartfelt vocals; "Complete Resistance" could be mistaken for an unreleased Crowded House song. When Varden does turn to the Americana rock for which it was originally lauded, as on "Triumph Mind, Idaho" and "You Never Will," it sounds refreshed, focused and better than ever. Leader Steve Dawson's songwriting mojo is in full effect, and the band plays perfectly to his strengths." – HIGH BIAS

"This band have been compared to artists like Lucinda Williams and Marshall Crenshaw for their deliberate blend of pop and alt.country. This is quite apparent on the mid-tempo, pretty and powerful opener 'Complete Resistance'. Resistance to this particular song would be futile, as it instantly grows on the listener. It could go on for eight minutes with a lengthy guitar solo to fade out but it concludes in a rather tidy manner. From there Dolly Varden gallop headlong with the hi-hat tinted 'Everything' that is also quite appealing. However, the band shows another facet when singer Diane Christiansen takes lead vocals for the tender 'Small Pockets' which would be the perfect complement to Kathleen Edwards' track 'Mercury'. Just as precious is her delivery during the lovely 'The Truth Is Told' that brings to mind Cowboy Junkies and an acoustic-leaning Sheryl Crow circa The Globe Sessions. The tandem of songwriter and singer Steve Dawson alongside Christiansen makes 'You Never Will' a very sweet track that is over before one truly can appreciate it. Dolly Varden loosen up somewhat for the seven-minute, Springsteen-influenced nugget 'Triumph Mine, Idaho' that builds slowly, adds some harmonica in all the right places but drags slightly in the middle. It's rare that the words and music come together so perfectly, but that is the case with much of this record. 'Your Last Mistake' is a come down that seems to cement this album's high quality by an equally fine outfit."
ALL MUSIC GUIDE

BUY IT
Forgiven Now
(undertow) "(Diverse Vinyl's) third LP comes from none other than Dolly Varden, the massively underrated Chicago five-piece featured in these very pages and whose discs have been enthusiastically reviewed by yours truly, most recently in Issue 19. On that occasion I rated Forgiven Now as a nine for recording quality and a solid ten for the inspired (and inspiring) musical content. John Richards admits to have been torn between Forgiven Now and its predecessor, Dumbest Magnets, and I can understand his hesitation. Both are fabulous examples of that rarest of things, intelligent, adult and genuinely popular music. Wrapped in the fabulous harmonies of husband and wife Steve Dawson and Diane Christiansen, the hooks and melodies of Forgiven Now are the perfect foil for the wry, sardonic insight of the lyrics. Its good on the CD, but the Ray Staff cut 180g LP is clearly superior, with a warmer, more dimensional presentation and far more fluid and expressive rhythm. It makes the most of those wonderful harmonies and communicates much more directly, so I guess that makes it a ten. Buy this disc and enjoy the fruits of your faith." Roy Gregory / HI FI +

Chicago's Dolly Varden has released another masterpiece of gloriously hooky pop flavored with a generous dash of country. Forgiven Now is a high-water mark for this band and its leaders, Steve Dawson and Diane Christensen. Their thoughtful lyrics, gorgeous melodies, excellent musicianship and wonderful singing add up to just the kind of music the major labels believe consumers aren't interested in. This is one of the best albums you're likely to hear this year. – Eric Fidler / ASSOCIATED PRESS

Chicago's own Dolly Varden just keeps getting better and better. The group's latest release is a stunning jewel that aligns hooky pop tunes alongside others peppered with a charming country-flavor. Dawson, a precise and intelligent songwriter, continues as the main scribe. But with several of her own songs debuting on Forgiven Now, Christiansen proves she is a writer to be reckoned with. Add in sold musicianship, exquisite melodies and lovely harmonies, and you have one of the best albums of the year. CHICAGO SUN-TIMES

Forgiven Now finds Dolly Varden more accomplished and confident than ever. The band's songwriting skills have ripened, along with its tight musicianship. The CD is the rarest of things: an eclectic success. Rootsy pop, twanging country, and crunchy rock are all served up in a cohesive whole. It all makes for what could well be one of the year's finest releases. LAUNCH

A seamless, breathtaking collection of rock and pop songs that embrace country music's gloriously complex heart without calling into play any of its cultural cliches. Forgiven Now will be the album others point to when talking about Dolly Varden's contribution to contemporary popular culture. Here is passion and pain, the agony of lust and love, death, determination, and renunciation, all of it on a record, all of it presented with grace, elegance, and verve. ALL MUSIC GUIDE

Like fellow iconoclasts Richard Buckner and Varnaline, Dolly Varden work the fringes of genre, creating their own rules and following their own muse. Forgiven Now is the group's strikingly strong fourth album. There's a forthrightness to Dolly Varden's songs that quietly demands your attention, like snatches of conversation in another room. And just as you relax your vigilance, a thorny little phrase pulls you back in. It helps that the music is equally as alluring, swinging from glib, country-tinged rock to dreamy, atmospheric pop. This is a well-written and well-performed effort from top to bottom. METROLAND NEWSPAPERS (NEW YORK)

This Chicago-based rock/country quintet manage to swim the waters charted by the likes of Gram Parsons and Emmylou Harris with gold medal results…a melodic adult sound with rich harmonies and lush instrumentation. "Forgiven Now" is a true band effort and a real catch VILLAGE VOICE

Dolly Varden's new Forgiven Now is at times hard-bitten and gritty and at others shimmery and ethereal…and when Dawson sings about 'moments of overwhelming grace' he doesn't just describe them, he creates them. CHICAGO READER

Dolly Varden is a gem of a band. On Forgiven Now, their fourth record, the Chicago quintet continues to refine their appealing blend of pop and country. Husband and wife Steve Dawson and Diane Christiansen exude warmth and good taste. It doesn't hurt that Dawson and Christiansen's voices sound great together. But What works best about the band is the songwriting. Most songs are penned by Dawson, who shares Joe Henry and Freedy Johnston's gift to tell a great story in part by leaving a bit unsaid between the lines. At his best, as on "Overwhelming", Dawson reels you right in with carefully selected, perfectly delivered words: "so jesus came without warning / right over your bed and hovered like a flower/In the coldest hour of the morning/wiping your lips clean, dusting off your good dreams". On many of Dawson's songs, the nuances are right (including the greasy slide guitar from Mark Balletto on "Overwhelming"), and the truths run deep.
Christiansen's songwriting is more prominent and accomplished here than on prior releases – and that means more of her winning voice, which sounds like 1 a.m. and a bottle of high-end cognac. Her songs ("Wish I Were Here" and "Time For Me To Leave" the standouts here) have an immediate quality that complements Dawson's more studious style. Christiansen and Dawson seem to especially enjoy themselves when they perform a true duet, as on "There's a magic here" (inspired by classic George Jones / Tammy Wynette hits). Producer, Brad Jones, has again captured the gorgeous textures of Dolly Varden. Much like Lucinda Williams' Essence, this record rewards any extra effort the listener puts in to explore its intelligence and beauty. – Jim Desmond / NO DEPRESSION

BUY IT
The Dumbest Magnets
(evil teen records) ROLLING STONE
Electric-country majesty… a series of lover's questions posed with a kick and sheen that evoke both the dB's and Gram Parson's Fallen Angels. And when Dawson and Christiansen fly in close harmony, you get a good idea of how Marshall Crenshaw and Lucinda Williams might sound in duet.

PULSE!
A wondrous triumph. Performed with an unerring sense of space and resonance, the album is a melancholy gem that falls somewhere between the lovely, lonesome twang of Gram Parsons and Emmylou Harris and the divine ennui of Yo La Tengo.

VILLAGE VOICE
Dolly Varden's gorgeous albums showcase the band's exquisite boy-girl duets and haunting guitar sound. Their sneakily affecting roots-pop radiates with the easy intimacy of a couple who've raptly contemplated each other's emotional blueprints. Their songs are smart, small wonders: poetic, enigmatic and above all, warm.

BOSTON PHOENIX
A sense of spacious, self-assured ease graces these top-shelf country-rock tunes. Dawson's nimble, pliant voice cannily combines the breezy ardor of Freedy Johnston with the devotional blue-eyed soul of Tupelo Honey-era Van Morrison; meanwhile the dusk-colored hues of Christiansen's voice flow like a dark, sure stream. In the end, though, it's the way these two craft songs to suit their voices that makes Dolly Varden so appealing and exceptional"

The Dumbest Magnets" makes many "Best of 2000" lists…Greg Kot / Chicago Tribune (#7)
With Diane Christiansen's dusky alto folding into Stephen Dawson's county-soul pleas, Dolly Varden achieves a rare, aching beauty founded on intimacy and understated urgency. "The Dumbest Magnets" is an album in the truest sense of the word, a complete work that traces the contours of a relationship with Leonard Cohen's eye for the telling detail, and The Band's unspoken sense of fellowship.

Mark Guarino / Chicago Daily Herald (#6)
This Chicago-based band sticks to melodies and scores beautifully.The Oregonian / Portland, OR (#6)
The husband-wife team of Diane Christiansen and Stephen Dawson spins gorgeous architectures of wistful longing, chiming guitars and twining harmonies. The band easily ranges from boisterous power pop ("I Come to You") to plaintive songs such as "The Thing You Love is Killing You," and "Along For the Ride." The title comes from the great line "the dumbest magnets hold together…"

Raleigh News and Observer (#2)
Speaking of perfect pacing, this oddly named Chicago ensemble uncorked an unfortunately named record that just happens to be a masterpiece. Moody, tuneful, emotionally thorny and uncommonly thoughtful guitars/bass/drums pop music – just the sort of record you thought they didn't make anymore. But they do.

Amy Haugsag / Miles of Music (#2)
The most purely beautiful record released this year. The husband-wife team of Steve Dawson and Diane Christiansen write imaginative, beautifully crafted songs and sing gorgeous harmonies together, and Mark Balletto's excellent guitar work and Brad Jones's dead-on production contribute to making this record completely irresistible. But what I love most about Dolly Varden's sound is the barely contained joy that can be heard in even the darkest of their songs, just on the verge of breaking out of the confines of the songs entirely and overtaking the listener.

Roy Kasten / Riverfront Times (#2)
Chicago's Dolly Varden steps off the precipice of rootsy indie rock–and soars. They can still rock madly, but now handle emotional enigmas more delicately. An absolutely glowing album.

Richard Milne / WXRT-FM — (Top 5 albums of 2000)

WNUR-FM — top indie albums of 2000

No Depression
"The Dumbest Magnets' is one of the most beautiful albums of the year … a dark horse of love-at-first-listen melodies, sublime husband-and-wife harmonies and a sensual, smart pop coherence"

Associated Press
"The Dumbest Magnets blurs the lines between alt-country and pop the way the Jayhawks do on Smile, only Dolly Varden does it better. Thoughtful lyrics, soaring melodies and killer hooks make Magnets giddily addictive, and as good as any album heard this year"

Chicago Tribune
Dolly Varden has been one of Chicago's most talented and instantly likable bands…true to form, (their) new LP 'The Dumbest Magnets' is another gloriously hook-y masterpiece of smart country-pop songcraft"

LA Weekly
"The Dumbest Magnets is a delicately produced gem … a first-rate disc that skillfully avoids the usual "alt-country" pitfalls by having substantial songs and people to sing them … special kudos to Mark Balletto for stellar and inventive guitar playing throughout."

Chicago Daily Herald
"Dolly Varden's third album is an understated American beauty ..'The Dumbest Magnets' shimmers with supple, sophisticated soul"

Miles of Music MoMzine
"Husband-and-wife team Steve Dawson and Diane Christiansen blend their voices to make some heartbreakingly beautiful music. The understated crisp production of Brad Jones as well as the thoughtful lyrics keep you coming back for more. Â Track 7 (Balcony) is breathtaking.

CMJ
"well-crafted, rootsy songs (and) artful, unpretentious arrangements add tremendous quality to 'The Dumbest Magnets'

E! Online
"The Dumbest Magnets' offers a peaceful and sublime take on great country-folk duets…and with simple arrangements supporting them (check out the lovely guitar riff on 'Apple Doll' and the orchestral strings on the title track), you can almost hear the crickets chirping as these bruised sweethearts sing of affairs gone wrong and the willingness to try again"

BUY IT
The Thrill of Gravity
(evil teen records) ]Austin Chronicle
"One of the smartest midwest American pop albums ever put to tape" No Depression
"on the thrill of gravity, their standout 2nd album, dolly varden can roots-rock with the best of them, while reflecting the smartest sense of pop craft…fired and quieted by complex emotion, not to mention animated guitars-acoustic, electric, lap steel, psychedelic-the songs never settle into easy solutions" Memphis Flyer
"the perfect late-night summer soundtrack… something like the Velvet Underground meets the Flying Burrito Brothers" Pulse of the Twin Cities
"the sounds they can wring from heartache and desolation are enough to cause fainting spells..Dawson and Christiansen harmonize like lovers holding hands in the glow of a harvest moon" WXRT-FM, Chicago
"a completely original mix of pop, folk, country, R&B, you name it…truly timeless"-Illinois Entertainer
"a batch of intensely personal songs investigating commitment, worth and durability all with unflinching honesty and emotion. The thrill of gravity's strength is in the self-contained purpose and power of each song"River Cities Reader
"with their new album, the thrill of gravity, Chicago-based dolly varden have dispelled any concerns about a sophomore slump in a big way. Dawson and Christiansen are two parts of the same voice, and when the subtle harmonies register, it's tough to tell where one ends and the other begins" Chicago Reader
"dolly varden's the thrill of gravity is the best work they've done, gently expanding the roots rock of their debut with edgy pop like 'sunflower drag' and piano work by Gastr del Sol's David Grubbs" Iowa City ICON
"impeccable melodies, interesting and intelligent lyrics, rich harmonies and poignant tales of emotional adventure…the thrill of gravity is enchanting"

Chicago Tribune
"the thrill of gravity is a reminder and an affirmation that dolly varden has quietly become one of Chicago's most treasured bands"

Chicago Daily-Herald
"a collection of 10 songs that opens up gradually, revealing colors, evoking moods and becoming so deeply felt over time it's chilling. Inside each catchy rocker or bare slice of melancholia is a restless drama that pulls and tugs from start to finish."

CMJ
"…a soulful and talented alterna-country quintet, dolly varden has now been on the circuit for 4 years, and the thrill of gravity makes me hope they'll be around for many more"