Dolly Varden with Rebecca Jasso, Saturday, September 19th at SPACE in Evanston. Advance tickets recommended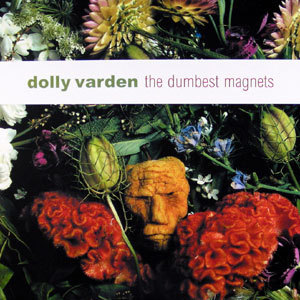 As we continue to celebrate our 20 years together as a band we thought it would be fun to play one of our albums all the way through at our next show. We all decided that the one we'd most like to do is "The Dumbest Magnets," the album we recorded with Brad Jones at Alex The Great studio in Nashville in 1999, released in 2000. It was a big leap for me, personally, as a songwriter, and a big leap for the band in terms of recognition and lots of things coming together. Before it was even released the album landed in the hands of legendary BBC presenter, Whispering Bob Harris, and he started playing the title track on his Saturday night program. We were doing a showcase at South by Southwest in Austin, TX, and a bunch of British dudes came up to us and told us they'd been hearing us on the BBC. We knew nothing of this! It was exciting and weird. Well, all that turned into opportunities to play in the UK, and led to many fine years of touring all over England, Scotland, Wales, Northern Ireland, along with France, the Netherlands and Mallorca, too. Crazy. It was an exciting time – as the "old" model music biz was in it's final throes – I remember going to Tower Records on Clark Street for an in-store performance and finding a rave review in their in-house magazine, Pulse. And we actually got radio airplay on actual radio stations all over the country! For the younger folks: radio was something people used to listen to to hear new music. And we got reviewed in Rolling Stone magazine – with topless Keanu Reeves on the cover! "Electric Country Majesty" they called us. Yikes.
We still often play quite a few of the songs from the album, including, "The Thing You Love Is Killing You," "The Dumbest Magnets," "Apple Doll," "Simple Pleasure," and "Balcony." It was a strangely fruitful time for writing and I'm not exactly sure why. I still can't say where songs come from. A lot of stressful music biz stuff had been going on previous to this album as we navigated major and indie labels and sought to find our place in the world, but we'd landed at a label that supported us (Evil Teen) and was behind the album. They paid for us to record with a real producer with a real track record and a cool indie studio. I made demos of the songs and sent a cassette (!!) to Brad Jones. We talked on the phone before we headed down to Nashville about his ideas for arrangements and sounds. His ideas were all great and, I gotta say, the entire experience was fantastic. Brad blew our minds with his incredible musical intuition and his ability to hear parts and articulate his ideas. Here's a few of the changes he made – ones that I remember at least:
Apple Doll – added the short instrumental bridge after verse 3
The Thing You Love Is Killing You – I don't think he changed anything, but he did play organ on it. Saying, "I don't really play organ, so this may not go well," then proceeding to not only nail the part in one take, but added a contrapuntal moving line through the changes. It was my idea to have Diane sing this one and to aim for a Gram Parsons / Emmylou Harris style duet on it.
The Dumbest Magnets – I think this stayed as I wrote it, but the idea of using mellotron strings was his.
Second Chance – this one was changed pretty significantly – chords and arrangement. To hear the way it was before, listen here, second song of the set. Yep, this song had been around for about 4 years. I think we made a recording of it for "The Thrill of Gravity," but it didn't come out right.
Progress Note – Diane wrote this on her own and I don't recall Brad's input other than all the cool studio things like doubling the electric guitar and wurlitzer lines, and having Matt's voice be the "foghorn."
I Come To You – I was unsure of this song because it seemed out of place with the others and it was such straight up love song. Brad convinced me to do it and it came out so much better than I could have imagined. The big guitar rave up at the end was all orchestrated by Brad and the band working together in one of my all-time favorite Dolly Varden memories. We were jumping for joy when we listened to the play back.
Balcony – at one point this was going to be the opening track and that may have been a better way to go – but too late now! People have really responded to this song over the years and it's always been a mystery to me because it is so personal and cryptic. I suppose it must be the "show, don't tell" thing since all the images presented are real from my childhood. There is no concrete story but it must hit home on some level. Or maybe it's just the cool guitar part Mark plays! I originally had a chorus on this one, but I think I dropped it before even presented it to Brad.
Be A Part – I honestly don't remember what Brad's contribution to this was other than arranging the ending. Matt came up with the clapping intro and the guitar parts were already pretty solid. We'd been playing this one for a few years before we recorded it.
Along For The Ride – This one is pretty much just like my demo, but with Mark's cool ebow ending added and some cool studio tricks: Brad recorded my acoustic guitar both up close and through an amp loaded with tremelo that was across the room and just on the brink of feeding back. And it was Brad's omnichord! At Alex The Great studio you sleep in a couple of rooms just off the studio. The vocal for this song was recorded right after I woke up one morning.
Too Good To Believe – A song of gratitude. One of the first! Brad wrote the amazing chromatic bridge part and I think it was at that point that we began calling him the "shit bomb."
This was another one where we were jumping for joy and hugging each other in the control room as we listened to the play back.
Some Sequined Angel – Diane wrote this one after a trip to LA to play a silly NARAS showcase "battle of the bands" fiasco, and after one of her friends said, "there's always room for another hearse on our block." I don't remember if I helped with the chords on this one. I may have. Brad suggested the big mellotron strings build up.
Simple Pleasure – this song came pouring out some time in 97 or 98 after dealing with the frustration and backward thinking of the music biz. It just occurred to me how much I love playing music with people I love and that no outside affirmation really had (or has) any bearing on the real reason for doing it. It's still true today. This one is pretty much just like my demo, arrangement-wise.
You can buy the album on LP at our online shop, download from itunes, or listen on Spotify
I hope you'll come see us play this album at SPACE on Saturday, September 19th!
-Steve